Impressions
Birthplace (1993 to 2000) of Acoustic Camera technology, Albert-Einstein-Str.16 (Building 13.7), 8th floor, Room 825, photo made August 1999

1999 Talk with Günther Jauch (sternTV) about Acoustic Cameras

After Neuro-Fuzzy Conference NF2002 at Varadero-beach with Jenny Ryffel and Hans-Juergen Zimmermann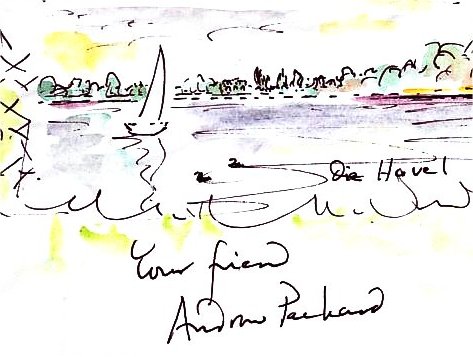 Andrew Packard - the discoverer of waves in living animals sent this nice sketch of the landscape near Berlin

Berlin/Brandenburg Innovation Award 2003 - congratulations of daughter Jana

Meeting Shun-Ichi Amari at University of Stirling 2004

Party with Korean distributor Jin-Yong Joo (r.) and Chunkwon Park (2.v.l.), Seuol 2004

Discussion about synfire chains as interference nets with
Moshe Abeles, 2005 Bar-Ilan Uni, Rehovot (Israel)

Meeting president Koo-Tae Kang (Hyundai) in Berlin

Visiting Hiroshi Kikawada (Japan-distributor Unitech) 2004 in Tokyo-Kawasaki

Trying to eat spicy Korean goods with Gunnar Heilmann in Seoul 2004

Happy new Year! Invitation of squid-expert Benny Hochner, Jerusalem Oct. 2005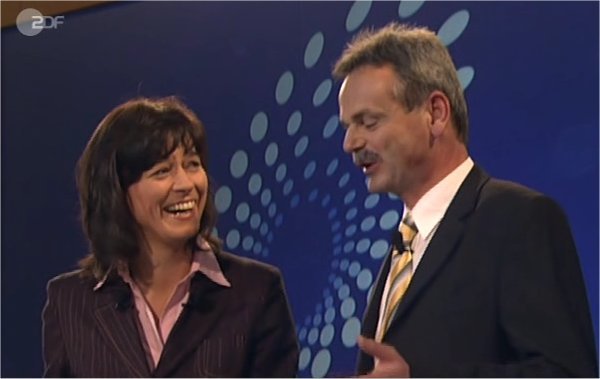 Stage-talk with Maybret Illner at the nomination for the German Future Award 2005, ZDF/Phoenix

Meeting mathematicians of the former 'Institut für Nachrichtentechnik' Berlin-Schöneweide, Edisonstr.63 (1600 employers) on the occasion of Ali Zechs's retirement, Dec. 2006 at Siemens. From left to right: Koch, Heinz, Zech, Harder, Richardt.

Workplace from 2005 to 2010 at 5th floor, room 5.12B in

Berlin-Adlershof, Albert-Einstein-Str. 16. The building was dedicated in April, 1989 as first 'sky-scraper' in Adlershof by the vice director of ZKI (Zentralinstitut für Kybernetik und Informationsprozesse) Prof. Dr. Burkhard Rebel. The territory (homepage) - used by 6000 people of Akademie der Wissenschaften der DDR - was 1989 characterized by single and double floor barracks for the different institutes.

Again a birthplace. In a window-less room in the basement of the former Institut für Nachrichtentechnik Berlin-Schöneweide, Edisonstr. 63, I digitized 1979 the first integrated circuit in the Berlin territory, the KA601. No room was free in the institute for such 'slightly potty ideas' to design integrated circuits. The circuit had 120 transistors and built the analog part of a PCM30/32 regenerator to bring 30 voice channels over a single subscriber line.
---
Impressum
Source www.gheinz.de
Mail to info@gheinz.de